---
"The Big Sick"
---
The Big Sick

(2017)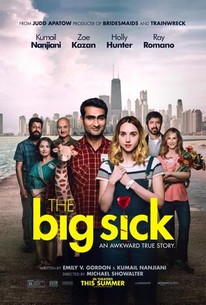 "The Big Sick" – a film review by: The WolfMan
A word like "big" in a title can become a big deal of the century; like Donald j. Trump the POTUS.. The Big Sleep, 1946; The Big Hurt, 1959; The Big Valley, 1965; The Big Chill, 1983 and in 1998, a really humongous biggie called, The Big Lebowski.
Too bad 2017 seems to be a natural-born year for The Big Sick, for the grumpy people without love in life. No, not due to the current state of the United States of Israel, or American politics, but that "Judd Apatow" has brought us yet one more sort of dizzy/feel good comedy that plays like a 90-minute, one-episode TV sitcom into a new era of laughter. All the characters in The Big Sick could be back next week at the same time, same channel, for the same reasons, but now popular, truncated six-to-eight episode season, then slammed into re-runs and may last for a life time, but not unless sharia law wipes it out. Toni Fisher had a hit record in '59 called The Big Hurt.  We are all so old to remember, so old,  Aren't long-term memories great, but not always?
Kumail Nanjiani, the Pakistani-born comedian (HBO's Silicon Valley), plays himself in a script he's written with his wife Emily V. Gordon.  We didn't do deep research into the possibility that this movie may have autobiographical elements in it, since Zoe Kazan (whose grandfather's first name is Elia) plays Kumail's love interest in The Big Sick. Hint: Zoe's character's name is also Emily.
Oh yes, Emily (of the film) has two parents: Beth, that's Holly Hunter and Terry, that's Ray Romano. We've always been a large fan of Hunter's; not so much Mr. Romano. It's not that we don't think Ray has talent or that he isn't funny for lots of people; we simply have a problem with Ray's voice. When we hear him speak in long passages, we always find ourself needing to clear my throat.
Kumail is a struggling stand up comedian and willing to go as few minutes on stage in front of a small audience for doing pesky, behind-the-scene tasks as the comedy club boss wants. (This situation is much like that seen in a very short-seasoned, but excellent HBO sit-com that premiered recently, called Crashing. Judd's name is also attached that series; Apatow is everywhere!)
Humail and Emily meet and are locked in quick attraction. He has brown skin. She has skin that's white. This is much of what this film is about, and the solid messaging ingredient for The Big Sick. Humail's family is rather conservative; much more so than Humail, but they're great people who have brought their religion to America. The Nanjiani family is working toward arranging a nice marriage for Kumail. He's not going for it, even though the young Pakistani women who just "happen to drop by" the Nanjiani family home at dinnertime are well-mannered and lovely to look at.
But wait, the film gets serious: Emily contracts a lung infection that brings on a very big sick. She's in rather critical condition and hospitalized. Ms. Kazan is quite pretty and fetching, even when she's in an induced coma in a hospital bed with her parents and Kumail hovering … while Beth and Terry are also wanting to know: who IS this GUY? so intent on being here with our sick daughter. Yes, what wehave here is: a failure to get a meshing of cultures … not to mention Beth's super bad attitude.
It's a kind of a predictable movie, but entertaining, if you're a fan of Mr. Nanjiani's brand of low-key, droll humor that we avoid when Silcon Valley appears on my Samsung. His stand ups depicted in The Big Sick have been purposely scripted to be lame; we can go with that; they are. But we still don't think THAT'S funny as most others in the theater seemed to think. Maybe it's just me.
A tip: if you want to see a good turn a bit different about a stand up character trying to make it in that tough category of show biz, see Apatow's Crashing when HBO places it into unending, revolving repeats. Guests in it are the stand up comedians, playing themselves, trying to help the fledgling comic hero, Pete (Pete Holmes), a former Christian pastor, survive to success as a comedian after being abandoned by his kooky, sleep-around wife. My gosh, Sarah Silverman and Gina Gershon even show up and give Pete a hand.
---
The Big Sick revitalizes the often moribund romantic comedy subgenre with a true story of love, death and the everyday comedy of being a 21st century American.
Full review
Nanjiani co-wrote "The Big Sick" with his real-life wife, Emily V. Gordon, whose serious illness, also depicted on screen, introduces yet one more complication into the story.
Full review
Even if The Big Sick risks being too long, or too gently lovable, it's certainly welcome counter-programming for a clobbering summer.
Full review
Comedian and actor Kumail Nanjiani and writer Emily V. Gordon mine their personal history for laughs, heartache, and hard-earned insight.
Full review
Director Michael Showalter's engaging, thoughtful film is most easily billed as a romantic comedy, but it has far more depth and dimension than your standard rom-com.
Full review
The Big Sick's willingness to wade into the complexities of love and family make it surprisingly compelling. But this rom-com also wades into profanity and sexual innuendo, too.
Full review
Maybe the title of "The Big Sick" could be improved (or maybe not; the third word does stick in your mind), but everything else conspires to make this romantic comedy a cockeyed classic.
Full review
Watching The Big Sick is like fondly reconnecting with an old friend you didn't know you missed.
Full review
Rich in emotional honesty and equal parts funny/moving, The Big Sick successfully infuses the traditional rom-com formula with a modern sensibility.
Full review
---